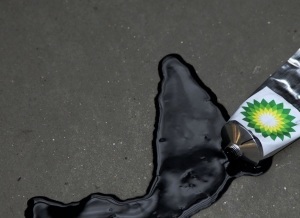 Disastrous climate change has already affected the lives of millions of people. The world has to keep 80% of known fossil fuels in the ground to avoid the warming becoming a global catastrophe. Communities living on the frontiers of oil drilling from Ogoniland to Alberta face the destruction of livelihoods by oil's hazards and climate change. But instead of halting extraction, we are letting fossil fuel companies break into more and more dangerous frontiers (Arctic oil, tar sands, shale gas). How come?
One of the things that allows this to happen is something the PR industry calls 'the social licence to operate': this means the support of powerful politicians, media, financiers and elites. Fossil fuel companies purchase 'social licence' by sponsoring high-profile shows and cultural projects. In the process, they subtly influence the cultural content, access influential supporters, and get their brand associated with cultural goods rather than their ecological destruction, human rights abuse, and climate crisis. The voices of respected artists and cultural institutions are co-opted to drown out the voices of those whose rights, health, family and subsistence are endangered by oil drilling.
Sponsorship links cement elite relationships that give fossil fuel corporations their power (see e.g. John Browne, Chair of Tate's board, but also BP CEO for a decade, and since then Chair of Cuadrilla and L1 Energy). Artists and cultural organisations are encouraged to think of themselves as entrepreneurs: to sell cultural products (including the cultural status of art) to the highest bidder.
As artists, culture-sector professionals, researchers and organisations, we refuse to allow our work to be used to justify and promote dangerous fossil fuel extraction at the cost of human lives and communities. By creating an oil-free culture sector we are enabling the transition to a livable future without fossil fuels.  
Image: Liberate Tate's 'Sunflower', Tate, 2010